Every week we're lucky enough to get to check out some of the most amazing men's handmade items from artisans and shops across the world. This week we got to experience something that really stood out and got our attention! Scrubz is an impressive line of natural skin care products that features a selection of items made just for guys. We got to use two products from this shop – Shavez and Handz, and we're going to share our experience with you right now.
Scrubz
There's nothing more impressive than a guy with soft skin, but the hassle and routine that goes into creating it usually makes it a no-go. Roberta and Michelle from Scrubz have literally perfected the art of making skin care simple for guys – and the quality and effectiveness is applause worthy!

The Scrubz brand is based on high-end all natural ingredients (think sucrose, aloe vera, and coconut oil), upscale presentation, expert crafting, and lots of good old fashioned TLC. The energy and look of the products are perfect for men, and the products themsevles make it easy for guys to get top notch skin care with zero hassle or fuss. Needless to say, we're big fans!
We checked out two products from the Scrubz line and will be sharing out rave reviews with you here…
[box]
Handz
Clean hands and fingernails – who would have thought we've been doing it the hard way?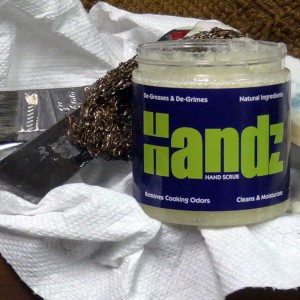 Handz combines gentle exfoliating sucrose grains with natural oils and essentials to make scrubbing hands a chore of the past. The grains feel really good on the skin, and it's kind of like a massage after a long day of work. The oils loosen dirt and hydrate the skin leaving the toughest hands looking and feeling soft and healthy.
The fragrance of Handz is amazing. It's like clean citrus meets masculine essentials. The citrus scent is not overpowering or 'fake' smelling, but it is tough enough to clear out the smell of cooking odors!
Handz is a true de-greaser, de-grimer, cleanser, odor remover, and moisturizer… all in one!
[/box]
[box]
Shavez
Just when we though Handz had taken the proverbial cake, the jar of Shavez got opened up!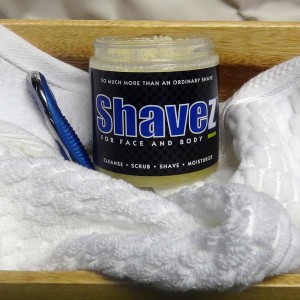 Here's the thing – exfoliating before you shave cuts down on razor burn, skin irritation, ingrown hairs, and dry skin like nothing else. The problem is that it's often 2-3 extra steps that guys simply aren't into. Shavez is an exfoliating shaving product that cleanses and relaxes the skin before the shave, lubricates during using natural oils the skin loves, and hydrates afterwards. Again, this is one product in one jar.
Here's how it works: You massage Shavez gently into your wet skin or beard for a few seconds. Rinse off the sugar, and the remaining oil layer is perfect for a cool, clean shave. By the time you've tackled the job, the healing oils have penetrated into the skin leaving it soft, moisturized, and nourished. Voila!
Just like Handz, Shavez is created from a variety of high-end all natural ingredients like natural sucrose, jojoba oil, aloe vera, coconut oil, vitamin E, and a variety of masculine smelling essential oils as well.
[/box]
In addition to Handz and Shavez, the Scrubz shop also offers facial scrub, body balm, lip balm, soap, and some amazing gift sets all tailored to the needs of guys!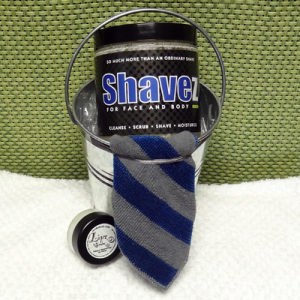 This is a one-stop shop for artisan, small-batch goods for him – and don't overlook all the amazing stuff that have for women as well!
Click the link below to visit Scrubz online right now…
[button link="http://www.scrubzbodyscrub.com/collections/guys" newwindow="yes"] Scrubz For Guys[/button]