Here at Handmade Men we've been fans of Red Leaf for some time and have added their amazing work to our weekly Hot Picks themes before. We're thrilled to be putting them in the spotlight this week and introducing you to some of their most popular men's products – the Men's Gift Set and the Men's Shampoo Bar. These both make excellent gifts for yourself or for a great guy in your life, and because of the high quality and presentation of these pieces, they make a wonderful 'first impression' when showing off just why handmade and artisan men's goods are the best choice. We hope you enjoy our review of these two great products as much as we enjoyed experiencing them!
Red Leaf

Hailing from Seattle, Washington, Red Leaf proffers an amazing selection of handmade, small batch, artisan bath and body products. Their work speaks for itself with high end ingredients, unique scents, upscale packaging without the attitude, and a full selection of everything you need to keep your body clean and happy. Red Leaf carries products for both men and women, and they go above and beyond to make gift buying for men a breeze.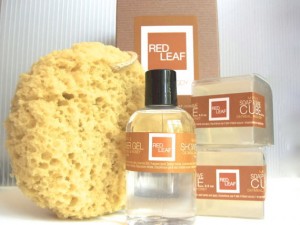 Men's Gift Set
This is the perfect combination of items to celebrate the power of handmade, gift an amazing gift, or stock your bathroom with the best in body care essentials.
Shower Gel
Smooth lather, fantastic scent, and deep cleansing – the Red Leaf Men's Shower Gel is a treat! It works really well with the included bath sponge and you'll get tons of lather with just a small amount of gel.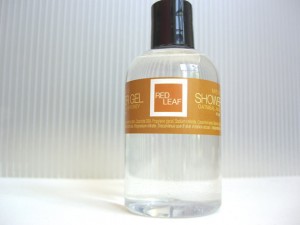 The texture, lightness, and cleaning power of this men's shower gel sets it apart from the rest for sure, but its the scent that will really keep you smiling. You get to choose from 12 masculine scents that include basil lime, tobacco, black tea, english coast, cognac, unscented, and wasabi.
Soap & Shave Cube
How cool is this soap? It's the perfect shape for easy in-shower or on-sink use, and it lasts a surprisingly long time. The soap comes in a handy plastic container that you can keep it in if you don't use a soap holder or shaving mug.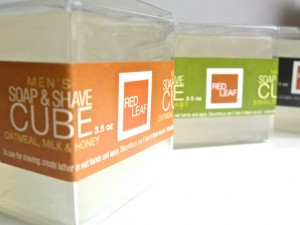 The soap has the rich lather, skin hydration, shaving lubrication, and amazing scent that Red Leaf always delivers, and it also comes in a variety of 12 scents.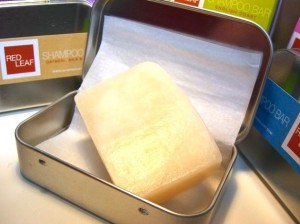 Men's Shampoo Bar
What happens when you combine the convenience of a soap bar with the deep, hydrating cleanse of artisan shampoo? The shampoo bar! This handy innovation is a big favorite for Red Leaf customers, and it's a great way to benefit from high-end ingredients in the most handy way imaginable.
The Men's Shampoo Bar is based in a selection of ingredients like olive oil, shea butter, and coconut oil that help bring out the best in your hair and keep it feeling and looking great all day.
The lather from this bar is really surprising. Unlike a more direct soap lather, you end up with a rich, penetrating foam that gets to the root of your hair and leaves you feeling clean and refreshed every time with no noticeable residue.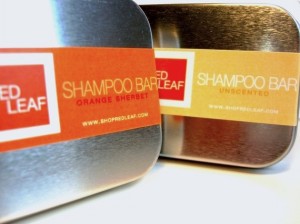 There are 11 amazing and unique masculine scents to choose from (including unscented), so there's a perfect shampoo bar for guys of every taste.
The Men's Shampoo Bar is packaged in a convenient and bar-saving tin that is easy to toss into a gym bag, rest on a shower ledge, or even travel with since its size is perfectly T.S.A. approved!

In addition to the amazing men's products we looked at today, Red Lead also offers…
Exfoliating Soap Bars for men

Vegan Bar Soap in a variety of masculine scents
Hydrating Facial Spray
Wet Shaving Soap
Aftershave Lotion
Room Spray
Men's Beeswax Hand & Body Lotion
And Much More!
Use the links below to check out everything Red Lead creates for men and women, and let us know what you fall in love with!