We are so excited to be sharing our recent experience of the Olympic Orchids artisan fragrance line with you! This shop has some of the most interesting and unique perfumes and colognes we've ever had the privilege of smelling, and we know that the Handmade Men community will be thrilled to meet them. Olympic Orchids is a small-batch company located near Seattle, Washington and powered by perfumer Ellen Covey who has a true nose for the amazing!
The Power Of Scent
Did you know that our sense of smell is arguably the most intense sense we have? Scent can conjure up memories and feelings in an instant, and many people find that they can 'remember' a scent more clearly than they can remember other sensory details like sounds and sights.
Scent is deeply ingrained in our minds and can have a profound influence on how we feel, how we think, what we do, and how we change. The right scent can get attention and make us feel vibrant and alive!
One of the most amazing things about the fragrances from Olympic Orchids is that each and every one of them is a complex and complete personality that evokes emotions and feelings while also adding sensations to our living tapestry. While it's impossible to convey a scent through a website, our goal with this review will be to show you just how amazing fragrance can be!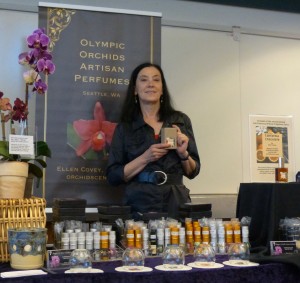 Handmade Fragrance For Men
Olympic Orchids does not limit their fragrance line to genders – but they do offer a few scents that we found to be particularly suited to the masculine spectrum. While all of their work is noteworthy, there are a few scents that we know you'll all enjoy!
Here are just 4 of our favorite individual scents…
Arizona
Image the scent of towering pine warmed by the sun and the subtle hints of desert plants like sage and wildflowers. This is Arizona, and it's one of our favorite Olympic Orchids scents. It combines masculine edges with a gentle gravity that pulls in the attention and soothes the spirit at the same time. A must experience!
Bay Rum
Just when we thought nobody could improve upon this timeless classic, but when the bottle opened up everything changed. The Olympic Orchids Bay Rum plays on the classic spicy presentation with a lot more depth and power. Think bay, spice, citrus, and that unnameable 'clean' scent that only Bay Rum delivers and you'll have an idea of what to expect.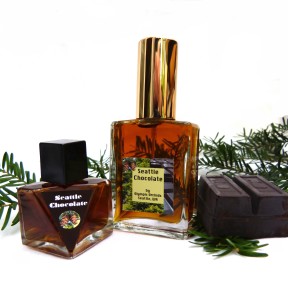 Seattle Chocolate
Imagine the darkest most grounded chocolate scent you've ever experienced – then replace the sweet notes with forest finery. Evergreen, moss, fir, cacao, and bourbon scents mingle to create an intoxicating masculine blend that can be honestly summed up as irresistible!

DEV #1
This is a light, spicy, sweet, and curious scent that is a serious 'attention getter'. To be perfectly honest, we wouldn't suggest wearing this unless you want the attention that comes with it! Vanilla, frankincense, beeswax, musk, and bluegrass are just a few of the amazing notes in this complex-yet-light scent. Let your imagination run with that!
Where To Begin
The Olympic Orchids line is massive. There's a scent for every personality and taste, and all of them are absolutely amazing. If you aren't sure where to start, you're in luck! There's an amazing discovery set that gives you a set of 6 3ml spray samples to experience so that you can define which one is right for you.
The set includes: Arizona, Kingston Ferry, Olympic Rainforest, Salamanca, Bay Rum, and DEV #1. This is a powerful array of masculine scents that any man will love!
Click the link below to see more of this Discovery Set…
[button link="http://www.orchidscents.com/productinfo_v3.aspx?productid=SAMP-MALE" newwindow="yes"] Men's Discovery Set[/button]
Our Faves
We were fortunate enough to experience a full array of Olympic Orchids scents. Although it would be fair to say that we loved them all, there are a few that stand out as favorites among the team. Here they are…
Kyphi
Bay Rum
Arizona
Seattle Chocolate
Olympic Rainforest
Gujarat
Ballets Rouges
The Devil Scents Collection
Smell Them All!
Click the link below to explore the full line of artisan men's and women's fragrances from Olympic Orchids…
[button link="http://www.orchidscents.com/Default_v3.aspx" color="red" newwindow="yes"] Olympic Orchids[/button]