We're big handmade men's soap fans around here because we've found that you simply cannot find the same quality ingredients, craft, scent, or price in big box stores. When you go handmade for men, you end up with unique soaps that are made with TLC and come in scents and styles that discerning guys actually want. So, needless to say we're pretty thrilled to be sharing an amazing soap shop with you today!
Pink Parchment creates a full line of small-batch, high quality bath and skin care items – and we'll be looking at just 3 of their men's soaps right now!
Pink Parchment
This amazing shop is a handmade endeavor that focuses on high quality bath and body goods. They have a pretty impressive line of soaps that are made from top-notch ingredients. They never use animal products in their soaps, and also steer clear of  harsh detergents, paraben, and sulfates.
This shop has an amazing track record of excellent service, amazing product, and really fun options. From individual bars of men's soap to pre-made gift sets, they've got you covered for both men and women!
We had the privilege of experiencing three handmade men's soap styles from Pink Parchment. Here they are…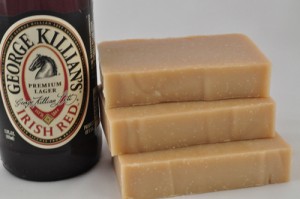 Killians Irish Red Beer Soap
Soap made from beer? You bet! There is no scent or texture that compares to that of a beer soap. The countless nutrients and minerals found in beer brew find their way into this masculine soap and then onto your skin. The fragrance is grounded and reminiscent of the earthy and sweet side of beer. The 'alcohol' scent does not carry over, only the natural notes of the brew itself.
We think this would be a great soap for any beer lover or any guy who needs some extra TLC for his skin. The lather is really nourishing and hydrating, and the ingredients are just plain good for  you!
This cold process soap is made the hard way so that you can have a truly enjoyable cleaning experience! Cold process soap is wonderfully soothing and hydrating, and it lasts a long time!
Surfer Dude has a crisp, clean, long-lasting, and really masculine scent. The colors make it look great in any shower, and it's a real treat to experience as a morning wake-up!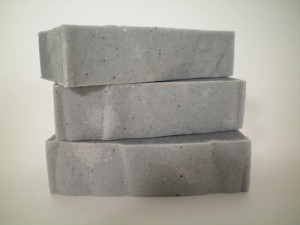 Activated Charcoal & Tea Tree
Charcoal is known for its ability to detox, sooth, cleanse, and clear the skin. Pink Parchment has created a soap around these healing properties and added tea tree essential oil to really make it powerful. The fragrance of this men's soap is light, refreshing, and grounded, and very masculine in nature.
The soap is a deep black color from the bamboo charcoal it's made from. When you wash, you will feel your skin being thoroughly cleansed – and you may just find that blackheads and other skin impurities start to vanish with regular use!
This is a great soap that has a wonderful fragrance and some pretty amazing benefits!
Our Review
We loved all three handmade men's soap bard from Pink Parchment and recommend them wholeheartedly to anyone who's looking for a healthier, more effective way to get clean every day. The craft and dedication that goes into each and every bar this small shop produces is clear from the first lather, and your skin will love the clean ingredients as an alternative to the harsh chemicals and fake fragrances added to many big box brands.
If you haven't ever experienced handmade cold processed soap, click the link below and see what all the buzz is about…
[button link="http://www.pinkparchmentsoaps.com/" color="lightblue" newwindow="yes"] Pink Parchment Soaps[/button]