This week on Handmade Men we've got a special treat for your eyes and your ears! It's all about the amazing sounds of handmade synthesizer, loop, and other instruments as we chat with Brian, designer of the RareBeasts shop on Etsy. Whether you're a music lover or a music maker, you'll be inspired by the amazing pieces of musical art that RareBeasts offers, and you just might find the next addition to your own collection!
Welcome Brian! Tell us a little bit about yourself and your shop…
My name is Brian and my Etsy store is Rarebeasts. I'm an inventor, musician, and gadget freak that builds handheld electronic musical instruments that are simple and easy to use.
Apart from my work on Etsy, I also contribute articles to a magazine called Make, often writing how-to articles about products from my Etsy store. Because I work from home it allows me time to look after my two kids (we get to make lots of cool projects) and I also play in a band called CupAndBow that makes music using the instruments that I create and build.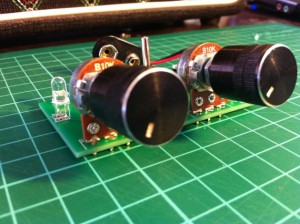 Your work is truly one-of-a-kind. What got you started in creating these pieces?
I've been tinkering and pulling things apart since I was very little but I've only really been designing original instruments since I made a piece for my daughter's 1st birthday called the R-Tronic. It was a simple step sequencer that uses shapes to put sounds into a sequence that makes up a little song. This was the stepping stone that made me realize I could invent and make all sorts of things; I just needed to get out there and start making.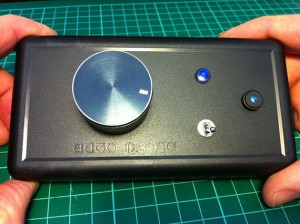 It's clear that a lot goes in to creating each of your handmade synthesizers, loop machines, and other electronic devises. How did you learn to work with the materials and tools you use in your shop?
I've always worked withed electronics, from aircraft to scientific equipment, so that gave me the basic knowledge I needed to start building electronic instruments. But it's my love of music that has allowed me to create designs I love while keeping things simple and functional.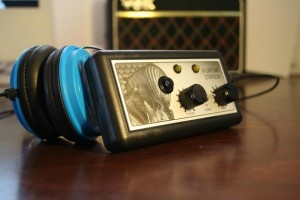 How has music itself influenced your work and the kinds of handmade musical instruments you create?
Music has always been a big influence on my work but it's the instruments over the years that have taken on a life of their own and have influenced me to start a band called CupAndBow. We play a range of experimental music that uses mostly the instruments I build for my shop.
We've selected a few of our favorite pieces from your collection. Tell us a little bit about each one…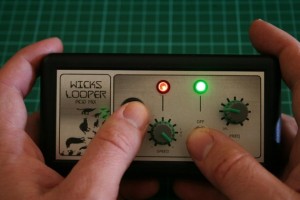 Wicks looper
The Wicks Looper is the first of the loopers I designed. It uses a rotary control to lay a sound down into memory that is then played back each time the loop happens. Using the rotary control allows you to make fast sweeps and chops that couldn't be made using a normal keyboard.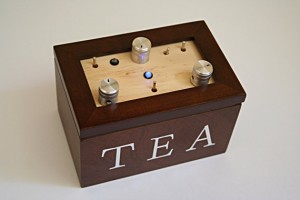 RiseTronic
The RiseTronic is a basic synth with oscillators and filters. I like this one for the case it is in. When I saw that tea chest I had to make it into an instrument. The RiseTronic is also one of my first analog synths with most of my other instruments all being based around sounds that are produced digitally on a chip.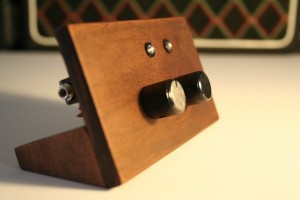 Em-Tronic
The Em-Tronic is a small digital synth.  It has only two controls but I find that many mass produced electronic instruments are too complicated with menu systems forcing you to reach for the instructions every time you want to play, so I designed a simple instrument that still makes a large range of sounds.
Your work is amazing!
Why do you think that unique handmade items make such great gift ideas for guys?
Nothing says 'I have really thought about this present' like a one-off handmade item. Men can be hard to shop for with so much generic stuff in stores, so you expand the range of awesome unique gifts when you start looking at handmade goods and one-of-a-kind items.
Thank you so much for taking time to chat with us and share your work and music with us. Where can people find you online?
[box]
[/box]
---