Alright manly men, this review is for you! Last week we received an amazing sampling of men's handmade shaving gear from The Holy Black Trading Company, and we're thrilled to be sharing it with you today. The Holy Black is a brilliant shop that offers up some of the most raved-about shaving soaps and aftershaves around, and we're definitely part of the fan club. In this week's In Gear review we're going to introduce you to just a few of the great shaving gear items from this amazing artisan shop… enjoy!
Style and Substance
What catches the eye first when perusing The Holy Black  Trading Company Shop online store is the look and personality of their product line. It's a combination of  Old West Barbershop and vintage nostalgia tailored to the man who lives right here, right now. The styling is truly one of a kind and it speaks accurately about the overall experience you'll get from the products themselves.
The Holy Black  Trading Company currently proffers a complete line of traditional-style shaving soaps that lubricate and hydrate the skin while you shave, and some artisan aftershave blends that soothe and surprise.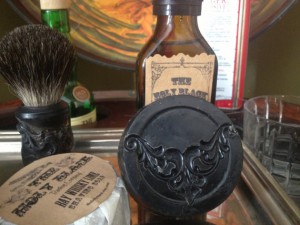 Shaving Soap
When shopping at The Holy Black Trading Company, you have several unique shaving soap scents to choose from, each made from top quality ingredients that hydrate and soothe the skin for the perfect shave. The same scents are available in their aftershave line so it's easy to get on board with a signature shave with one-of-a-kind fragrance.
The soaps are soft, perfectly lathered, easy to rinse off, and really effective with a straight or safety razor. If you think that creams and gels packed with chemicals are the only way to get a smooth and soft shave – think again!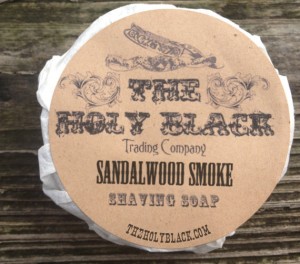 Aftershave
The aftershave offered by The Holy Black  Trading Company is made from nourishing ingredients that include real whisky as an astringent and alum to help stop any bleeding. Sheer genius! They go on well, the scent lingers for hours in a subtle and enjoyable way, and they work really well with the soaps as a single daily shaving protocol.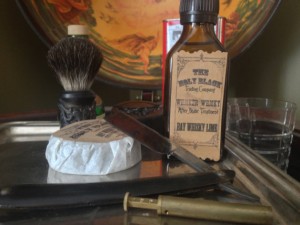 Scents
We're fans of the understated fragrance that lasts but doesn't overpower – and this shop nailed it. Here are some of the scents you can find in both their shaving soaps and aftershaves…
Sandalwood Smoke
Like the name implies, this is a masculine, grounded, woodsy, and smoky blend. The scent is deep and brooding while not being aggressive or overwhelming.
Mountain Man
This scent is clean, light, invigorating, and masculine. There are gentle hints of pine and fir that make the concrete jungle feel like a woodland forest, and the deeper notes have a comforting scent that lasts for hours.
Bay Whisky Lime
What happens when a perfected version of the classic bay rum scent meets cooling lime? Bay Whisky Lime! This fragrance brings up the classic bay rum scent but adds more energy and invigoration in with the crisp lime. This is a great option for any guy who doesn't love their morning shave because it's sure to wake you up and start you out with a smile.
Gunpowder Spice
It turns out that smoky and spicy make the perfect shaving combination – and the most intriguing and attention-getting scent to have lingering around your mug all day long. This is sure to become a classic fragrance blend because it is completely unique and blends classic comfort scents with a twist that will surely please!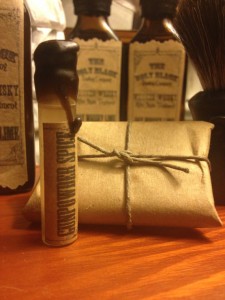 Get Some!
Click the banner below to visit The Holy Black Trading Company online right now…

Keep your eyes open for their sample kits and unique shaving brushes!