Keeping a handmade journal is a time honored tradition among men of all classes, professions, and time periods. From the adventurous logs of sailors and explorers to the memoirs and observations of the world's leading philosophical minds, the personal journal provides a simple space to pause, reflect, and remember.
In the modern day, many men have become disconnected from the process of keeping a journal and recording the events, thoughts, and ideas that create their lives. Our ancestors would probably be taken aback by the sheer number of gentlemen who don't have personal books filled with records and observations decorating their bookshelves!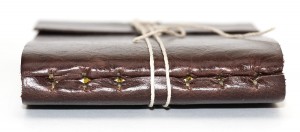 The good news is that thanks to the handmade journals available from Heyer Designs, we can reconnect to the therapeutic, enlightening, and just plain handy art of writing no matter how busy life gets. Brandon Heyer from Heyer Designs creates men's handmade journals in a variety of sizes, colors, styles, and page counts. From having a stylish place to jot down notes to a sacred place to record your most profound realizations, these one of a kind handmade journals will fit the bill!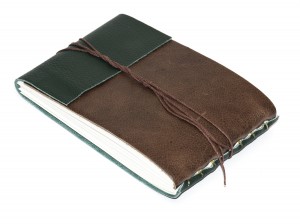 The manly journal differs from the ever-popular diary kept by the fairer sex in many ways. Most men are thinkers and spend lots of time 'in their heads'. Their journal entries tend to be filled with ideas, plans, sketches, and goals that help them come to conclusions, remember the details, and solve problems. The journal acts as a private space where ideas and plans can be worked out in a physical and tangible way which can be extremely enlightening! Some of the world's best thinkers kept journals, and we rely on those journals today to understand their complex teachings.
For the professional man, a leather bound handmade journal provides a safe, weathered, and rugged space to jot down ideas, figures, and facts that won't easily bend under life's everyday stresses. Heyer Designs goes to painstaking lengths to stitch journals using ancient Coptic binding techniques and top materials. This ensures that the pages of your journal stay put, are easy to work with, and look good at the same time. One of the features of the Heyer Designs journals we liked most were the versions that allowed for custom stitching colors. This means that you can choose the perfect journal color, then select a stitching color to compliment or contrast the journal and really personalize its look.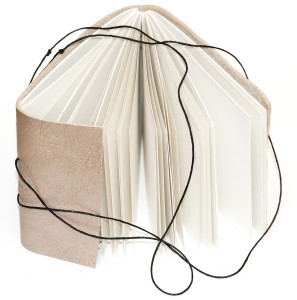 Journals are the perfect gift for yourself or for the thinking man in your life. They encourage organization, thought, and emotional flow – and they leave a legacy that can be unbelievably profound for children and grandchildren should the author choose to share the later in life.
If you're in the market for a journal for any purpose, choose handmade and choose Heyer Designs. The quality, craftsmanship, and heirloom quality construction will get you more value than you'll ever get from a big-box store, and the service will instantly convert you to the handmade and hand crafted lifestyle!
---
---
View the full selection of handmade journals from Heyer Designs by clicking the button below!
[button link="http://www.etsy.com/shop/heyerdesigns" color="lightblue" newwindow="yes"]The Shoppe by Heyer Designs on Etsy[/button]
---
[box] The opinions expressed in this review are 100% those of the respective post author. We are disclosing this in accordance with the FTC's 16 CFR, Part 255: "Guides Concerning the Use of Endorsements and Testimonials in Advertising." We do not accept payment or product in exchange for positive reviews.[/box]