We are so thrilled about this amazing giveaway sponsored by The Good Union!
Up for grabs is a unique antique copper #180 Coal Miner tag that's sure to get attention and connect you to the true spirit of American craftsmanship.
This masculine necklace features an antique copper Coal Miner tag with the number #180 stamped. It comes complete with a 24″ ball chain for easy and comfortable wear.

This coal miner tag was commonly used during the coal mining & industrial era of the early 1900's as a way of track logging. Each miner was assigned a number which appeared on a metal tag that was taken off a board by the miner as he entered the mine. This let the company know how many miners & who they were that were in the mine at any given time.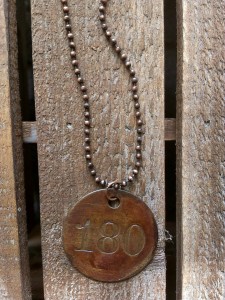 Enter To Win!
One lucky USA resident will receive this necklace delivered to them via mail by The Good Union. Winner will be announced on July 12, 2013.
Use the easy entry box below for your chance to win…