This week we have the pleasure of chatting with Lorrie from Lenny Mud! Lorrie creates some of the most amazing ceramic and pottery pieces with some of the best quips, prose, and graphics you'll find. Her style is unique and witty, and her pieces are the perfect gift for the tea or coffee lover in your life! Check out our interview with Lorrie, and see some of her work as well right here!
Welcome, Lorrie! We're so happy to have you on Handmade Men!
Tell us about your shop, 'Lenny Mud'…
While I know the shop name 'LENNY MUD' makes me sound like a grumpy old man in an undershirt who smokes cigars, I am actually a female who drinks a lot of tea.  Not realizing it would also be my shop name, I chose my cat's name as my original Etsy account name.  I kept the name even after Etsy announced a feature that would allow us to change our shop names because I had become used to people calling me Lenny, and there is some enjoyment in relating to customers who think I am a man.  I love the messages I get that start off with: "DUDE…".
That's hysterical! Part of what makes Etsy, and the internet for that matter, a fun place to work and shop is that you do get to create a relationship directly but the artist – even if you're way off base about who they might be!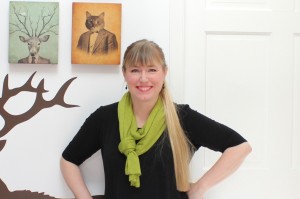 In the interest of placating the cats who rule our lives, tell us about Lenny!
Lenny is a rescued cat who was named after the character in Steinbeck's 'Of mice and men' because the work he was hired to do originally in my studio in New York City was to deal with rodents.  The character in the book is intellectually challenged, and Lenny has lived up to that moniker – he makes really bad decisions often.  His typical thought process is often along the lines of "I can jump on that shelf. Oh yes I can. Those stinkin' pots aren't going to get in my way,"  and "The more stuff you put down on a surface the more I think it looks like a perfect place to sleep." 
That seals it. All cats are the same! The truth is that if you want an amazing cat (or any pet), rescuing is the way to go. Choosing to adopt an animal from your local community shelter saves a life and adds something special to your life – not to mention all the entertainment!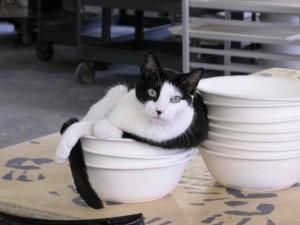 Tell us about the work you do…
My shop sells ceramics and pottery primarily, although I do sometimes dabble in fine art.  My day job is as a ceramic designer for a large corporation and my designs are sold worldwide – I work my Etsy shop on evenings and weekends.
I primarily sell items that are fan art homages to 80's icons like Mr. Tea.  I am told blondes have more puns, and in my case it is true!  Because I am pear shaped, I consider myself a hipster.  I believe there are only three decent Star Wars movies. 
I like to make things that make people happy. I consider myself a craftsperson and not an artist: that means that I have a learned skill, not necessarily any innate talent.  I am compelled to create and prefer working in my studio to doing just about anything.  I'd rather be leaning over a hot kiln then sitting on the beach with a book. 
We're huge fans of your work and love checking out the new things you create all the time!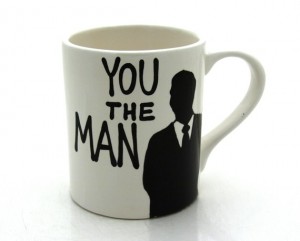 What materials and processes do you use in making your mugs and other ceramic pieces?
I use a variety of processes and materials to make my mugs.  Some are hand thrown on my wheel using a local clay, some are slip cast, some are made using a technique called jiggering, some are purchased as white ware and then painted and glazed, and some are mugs that I have purchased from a local charity and then restored through numerous re-glazings and re-firings and then go onto alter by adding a hand painted or screened design.  I try new materials and techniques constantly.  I am militant about using only non toxic, eco friendly, lead free materials in my studio – it is an enormous amount of trust that people place in you when you make items that they eat and drink from.
That's commendable. It's nice to know that when you're enjoying a mug of your favorite tea or coffees, that's all you're getting with each sip!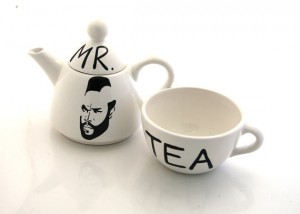 Tell us about the tools you use to create your work…
I love my two wheels.  I use one for throwing, and one for what is called banding (the process of adding glaze to the interior of a mug, or stripe the exterior or a piece)… and my Sirius Radio! I love to crank up the Celtic music or show tunes and really rock out.  I'm kidding.  Probably.
Your creative process sounds pretty fun!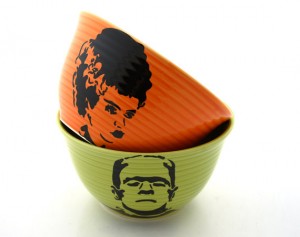 Why do you think handmade pieces are special?
I am in a particularly rare and unique situation for a shop owner on Etsy in that I live in both the "handmade" world with my shop, and by day work as a designer for a giftware corporation and see my designs for them  mass produced, ethically manufactured overseas, and then sold in large stores.  I guess for many, that makes me like the vegetarian who eats hamburgers on the weekends.  Hater's gonna hate!
I appreciate handmade for its innovation. I believe it is primarily in the handmade arena that really great ideas begin their life.  There is a spark and life to handmade items that make it exciting and vibrant and it has to do with the connection between the maker and the piece.  As people make more thoughtful purchases it's easy to see how the unique nature of handmade and the personal connection associated with it adds value. Handmade allows for risk – and it is that element of risk that leads to genius in many cases. 
That said, I think a common mistake made by many craftspeople is the belief that just because an item is handmade that it is inherently better than an item that has been mass produced.  In the end, each individual product is judged by the consumer on many different levels of criteria – for some consumers the "where" and "how" will be the priorities, for others it may be price or design.  I try to avoid absolute statements and while I adore Handmade and buy a ton on Etsy,  I also still buy stuff at Target that I really don't need sometimes.
Wether I am designing handmade or mass produced- I just really try to put good things out into the world for people to use and enjoy – to become a part of their morning ritual or daily life.  Creating is what I do because it's something I was born needing to do – I don't tend to politicize it anymore than I do the act of breathing.  And I also believe werewolves and vampires should just get along.
Beautifully stated, and a lot to think about! Handmade Men is all about handmade, but we also honor those ideas and projects that started small and have evolved into big things as well. It's all artistic in its own way.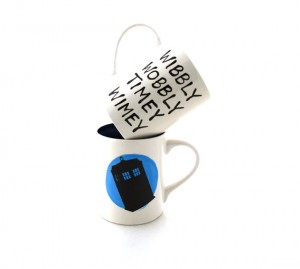 What's happening in your shop now, and do you have any plans for the near future?
My husband was recently laid off and now works full time as my "assistant" and I am really enjoying ordering him around.  He is a huge help and I hope to have some stock built up for the holidays! I plan to occasionally unchain him to stretch his legs.  Probably. 
That's so nice of you! It's good to keep guys busy. They tend to cause trouble when left unattended.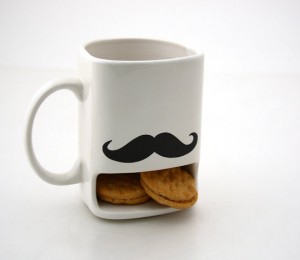 Any last words before we let you get back to your work?
I have enjoyed what some people would consider is a successful career in my field.  For many people, being able to work in a creative day job in a field they love would be enough.  Starting from scratch again on Etsy has been humbling, exciting, frustrating, exhausting and invigorating.  I think the lesson is to never allow yourself to get stale.  Challenge yourself – try new things every day… go places outside of your comfort zone.  Some of my best work happens at times when I have no time.  So dude, just keep on keepin' on!
And in the end, those of us who are lucky enough to be able to make stuff should see that ability for what it is: an incredible gift.  So share your talents, share your knowledge, share your stuff.  We rise when we lift others.
Oh, and there really were only THREE good Star Wars movies.
Inspired!
Thanks again for being here, and we look forward to sharing your work with our readers again soon!
Use the links below to see Lorrie's shop on Etsy, and to check out some of the amazing work she's done at her 9-to-5!
[box]
[/box]
---