This week on Handmade Men we caught up with Jodi from the popular byJodi shop on Etsy. Jodi creates some of the most unique, polished, and eye-catching men's jewelry pieces we've seen, and we're really excited about featuring them here! Leather, metal, gemstones, and beads are all within Jodi's artistic comfort zone, and she mixes and matches these materials to create one-of-a-kind handmade men's bracelets that stand out from the rest in every way. Join us today as we explore the byJodi shop and learn more about the artisan pieces available right now!
Welcome Jodi! Tell us a little bit about your and your shop…
My love for jewelry began rather serendipitously.  A friend twisted my arm one afternoon to make jewelry with her at her studio.  I was immediately smitten by the beautiful materials and I soon found myself experimenting with metalwork and researching fine stones.  Turning my new hobby into a business became an easy transition.  Prior to moving to GA and starting a family, I enjoyed a 10 year career in marketing that involved the start-up of two companies and building a web development company with my husband.  It was pretty much inevitable that designing jewelry was bound to be more than a hobby for me.
Around 80% of my business comes from repeat customers.  Time and again they tell me how much they appreciate being able to find rare, high quality stones included in designs that are executed with great attention to detail.  This makes my heart sing!  I treat each and every piece with the highest regard, and correct even the slightest imperfections.  I want the wearers of my work to feel the love and importance I have placed on their creations.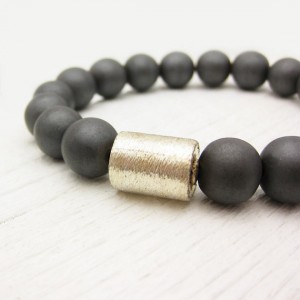 What got you started in creating works for men?
I began creating jewelry for men when I received a custom request from a regular client.  Now I get excited when I see stones and other natural materials that can be either unisex or used in designs specifically for men.  I particularly enjoy working with eco-friendly and supple leather.
A great deal of my time is spent searching for rare and high quality stones from locations throughout the world, and then looking for fresh ways to give them a unique twist that is also effortlessly wearable.  I take inspiration from the works of Frank Lloyd Wright, and his profound ability to harmonize his designs with their surroundings.  I want my creations to feel like second skin.  I want my work to be that piece in your drawer or closet that you gravitate to time and time again.
---
Here are a few of our favorite pieces from your shop right now, tell us a little bit about each one…
Cocount Wood & Sterling Silver Stretch Bracelet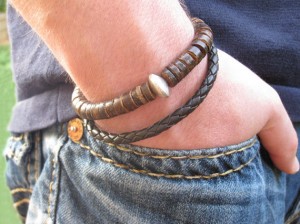 The dark coconut wood is an interesting combination of tough, rugged, natural and somewhat luxurious proportion. This is made with brushed sterling silver.
Metallic Hematite, Onyx & Oxidized Sterling Silver Bracelet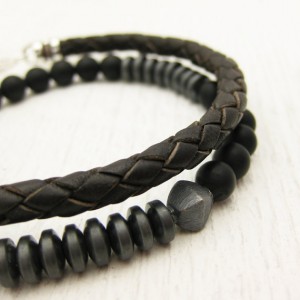 I love the design of this bracelet. It is a perfect unisex piece. The slate grey nature of the hematite works effortlessly with the matte black onyx.
Leather & Metal Boho Wrap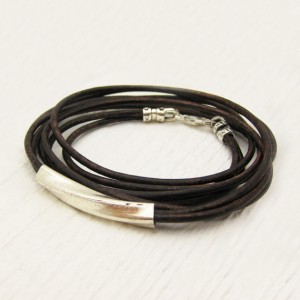 This is one of my top sellers. The sterling silver tube is limited edition and it has such a rock and roll vibe to it.
---
Why do you think handmade and one-of-a-kind artisan items are such a great choice for men when it comes to personal style and gifts?
Whether you are a man, woman, or child, you can almost always find a handmade alternative to mass produced items.  When you choose to purchase something handmade, you obtain a better produced item (in both quality and construction), as well as a connection with the person that actually made it.  In our present culture where mass production detracts from human connectivity, purchasing handmade can enhance well-being.  There is such an atmosphere of positivity in handmade; it is food for the soul.
Beautifully said!
Thank you so much for sharing your work and your energy with us!
Use the links below to connect with By Jodi online to see what's available right now…
>>>byJodi Shop