In this week's Featured! Interview, we're talking with Toban from Toban Nichols Studio. If you haven't seen the BROllow yet, you're in for a serious treat! Toban is a deconstructivist artist living in Los Angeles and he's been working on some pretty amazing projects. From computer errors to comfy pillows, we're taking it all in!
Welcome Toban! We're so happy to be talking to you, and are big fans of your work. Tell us more about yourself…
I'm Toban Nichols, a deconstructivist artist living in Los Angeles for the past 3 years. I moved here from San Francisco in 2009. I'm originally from the Midwest – Kansas to be exact.  In 2007 I started to develop a body of work titled "LockUp".  It's a set of printwork based around computer error. I create the errors in the CPU of the computer and make art out of the results. It's been so much fun to research and develop the process. I see pixels, distortion, & what I call 'smashups' everywhere I look now.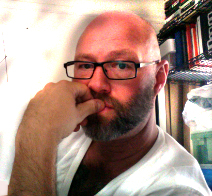 Your evolving shop on Etsy, and your presence as an artist are really amazing to explore. Tell us more about your shop, your work, and what's happening in your studio right now…
My shop on Etsy is an extension of the Toban Nichols Studio brand.  In the past year, I've taken all the different things I do both commercially and artistically and combined them under the umbrella of the studio. It made sense to me that it was all part of me and the work I create. You can find the commercial photography, the design projects I've done, and everything having to do with my art career under the aegis of Toban Nichols Studio now. It's been pretty cool to have it all come together. It took awhile for me to make sense of it and how it fits together.
My Etsy shop was mainly inspired by my line of pillows based off of the LockUp series prints. When I decided the LockUp series had an appeal outside the art world and in deciding how that would present itself, the idea of promoting a line of my own that isn't strictly living in the art world was a conundrum.  I know how to get my name out in Art and as an artist but I knew nothing of textiles, housewares, and that world. I had to approach it as a research project – asking questions, trying out ideas, and seeing if they pass or fail. My Etsy shop is one of a few retail outlets for the pillows both online and off.  It's a more personal place to look at the line and learn about its origins and about myself as a designer and artist.
We're really happy that you're part of the Etsy community right now because more and more men are reaching for handmade and one-of-a-kind pieces, and your work simply cannot be ignored!
It's clear that you've really gone into the depths o your own creativity and the various mediums you want to explore. Tell us how you got started on your own creative path…
This is a great question, one I love answering. When I was a child, I would go to my Grandma's house after school and she would sit me down with paper and pencil, markers, pens, whatever was in her black desk, and I'd draw for several hours until my Mother came to pick me up. This also happened in Church. With her blessing, I drew all over the church program, the tithing envelopes, and anything else she had stashed in her purse. She really supported and encouraged my early artistic efforts. In fact, when she passed away we discovered a huge old Hush Puppies shoe box with all those years and years of drawings in them. She had saved every single one over a period of about 20 years. It's incredible.  She was incredible.  Because of my Grandmother's encouragement, I've always known that I could be an artist and do anything I set my mind to. It's been an invaluable trait over the years when things have looked dire.   Sorry, that went on a bit longer than I meant it to.
The pillows came out of that same belief, that I could do anything I set my mind to. Etsy, as I mentioned earlier, seems like a place where people put their creativity out there in the world for people to appreciate. It has an organic feel to it, unlike places like eBay where you're just selling stuff to people who have no idea where it came from or care to know. Etsy has a sort of soul I guess you could say.
That's a great story. Many men have a hard time giving themselves permission to be artists and to step in to their authentic creativity. You're an inspiration!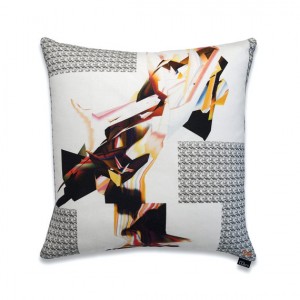 As part of our pre-interview stalking, we stumbled across another piece of art you've created in the form of an app. One of the things we've been exploring recently is how digital and programmed work is deeply creative and has a process similar to traditional forms of art. Tell us about your app and the process you experienced in creating it…
I love that you know about my App! Thanks for asking! So funny that I've been developing and producing a line of pillows at the same time I was creating, designing, and developing an app. It's been a frustrating process that I will hopefully be smart enough to avoid in the future. I should have waited on one or the other instead of launching at the same time.  Anyway, my app is called NosePics and is a silly photo app that allows you to put faces and things on your own photos. It's a lot of fun, especially for kids. A big time waster for adults, too!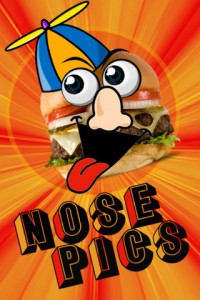 Utilizing multimedia has been a part of my normal art practice for several years now. I moved out of traditional painting in the year 2000 and into using technology and electronic processes in the making of art. Apps are, to me, a natural progression in art forms just like they are for games and utilities. People are moving towards mobility as a way of life, we make and do things on the go now. For an artist, at least for me, I have to create. I have to. If I haven't made anything or creatively expressed myself for more than a day, something happens inside. It's a nervousness, a longing, an energy that makes me feel weird. NosePics came from the fear of that feeling – my desire not to feel that way. The app is an outlet, and a really funny way to play around with your friends. It's great at parties, no really, it is…I'm not just shamelessly plugging it. I mean, I am, but I'm also not just plugging it!
We love this app! A definite recommend and a good time! For kids and adults it's a great way to sinpire people to look at photography and the world around them in a new (and seriously hysterical) way without all the complications.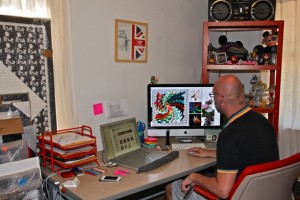 Get your own copy of NosePics by using the links below… and make sure to check out the official NosePics Facebook page for hours of entertainment!
[box]
[/box]
When you spend time creating in your studio, which  tool that helps turn your creative ideas into reality is your favorite?
I am a total Photoshop dork. I LOVE Photoshop! It's so much fun and was really hard to learn way back in version 4.5 (other nerds out there will totally 'get' how long ago that was). Because it had such a steep learning curve, I really appreciate what it can do.  It's the perfect tool for both Photographers who do their own retouching as well as designers.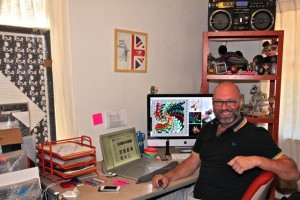 Do you have a favorite handmade item that reminds you of just how important art, craft, and creativity are?
I own a quilt made by my Grandmother when she retired from teaching. She made the quilt herself, and she made it out of the clothes she wore to teach in. She stopped teaching in the early 80's so all of her suits that she wore to school are made of polyester or other blended fabrics and they are gorgeously bright and colorful. Crazy patterns and textures make up this amazing quilt. She made it by hand, by her own hand. It's just amazing to me. I stare at it frequently and am developing a piece of art around its design.  It's something that was not manufactured in a lab or factory and couldn't be, it's handmade qualities make it unique, and to think she made it herself gives it so much meaning to me. It's the truest definition of a treasure.
Why do you think men should be looking at handmade? What can guys get from handmade and artisan shops that will make them stand out, feel better, look better, and be happier?
I think men want the same thing women do, to have something special and unique. Often handmade things have a rugged quality to them that is appealing to a male sense of style.  Men have just as much pride in what they own and wear – it's a matter of taste and sophistication. Men definitely have that quality, whether they want to admit it or not.  I relate handmade things to the blacksmith of the Old West. He was an artisan, someone who had to use precision in his craft. He had to be accurate and also delicate in the work he did, shoeing horses, making tools, etc. Those things had to last and be useful, they had to be made right. But there was also a pride that came along with it. The town Blacksmith was known for how good his craft was.  Men should rightly think of the art of making things by hand the same way.  Also, these things are unique and of more value because they were made by hand.  Another analogy would be eating homemade food to processed food in a bag or container. Homemade food always tastes so much better, and natural. It was crafted by hand.
Any big plans, pieces, lines, or ideas in the works? What can we see in  your shop in the coming months?
Oh boy do I have plans! I've got so much going on, I can hardly see straight.  In the next year, the pillow line will expand to include other housewares like rugs, blankets, and things like that. I'm also working on a new body of photographs and a sound project with a local musican here in L.A. It's all very exciting. This is a bit of a secret but I think I can spill a little bit about it, My friend Erin Kellgren-Temple and I are also starting a new art fair that will debut next year. It's a new type of art fair – it's not about galleries, huge booth rates, or catering to the elite of the art world. This is an art fair for artists, not galleries. It's all very independent and in the spirit of handmade. It's called CollectLA and is aimed at artists who aren't represented by galleries, but also aimed at new collectors who may not know much about collecting art and want to learn or begin a collection. It's an exciting concept and one that really doesn't exist right now. See it all here: http://www.collectartfair.com/
That's just the kind of event and intention we like to support – make sure we get an invitation!
Thank you so much for spending time with us today, Toban. We wish you the very best of luck with CollectLA, your shop, and your work!
Any parting words for our readers?
I have a motto I have come to live by. It's sometimes the only thing that gets me through the day. It's simple but says everything…"Just keep going".
To elaborate on that statement, there is a saying in the art world – On a long enough timeline, everyone can be successful. I have faith that the statement is true, I have hope for the future but I also know that nothing is handed to us. You have to work for what you want and frankly, just keep going.
Beautifully said.
Use the links below to visit Toban Nichols Studio online, and to connect with Toban throughout the social media sphere!
[box]
[/box]
---