Who can avoid spending time in the sunshine? It's the perfect time of year to soak up the sun's rays, get some color, and enjoy all of the recreation and fun that comes along with warm weather. While you're out playing this season, keep in mind that as much as the sunshine is fun – it can also be the course of many health problems. We've assembled some of the most hassle-free tips to keep you out in the sun without worrying about the burn!
Nobody is safe from the dangerous effects of the sun. Age, race, gender, skin type, or health history have very little to do with how likely you are to get burned or even get skin cancer. Remember that your skin is the largest organ you have – and it's easy to take excellent care of it!
Here's how to soak up the sun and stay safe this year…
Apply a 30 SPF or higher men's sunscreen (it's now easy to find 50 SPF varieties) at least 15 minutes before you head out into the sun, and again every 2 hours. Have you seen the new spray-on sunscreen? It's amazing, easy to apply, and you'll love how light it is!
Inmost areas, the sun hits its peak between 10:00am and 4:00pm. These are the funnest times to be outside, but also the most dangerous. Watch yourself, monitor the color and feel of your skin, and keep the sunblock coming!
If you're going to be out all day, don;t hesitate to work long-sleeved shirts and pants into your look. There are many fabrics that will keep you cool while protecting you from harmful UV rays.
When you're near water, light-colored sand, concrete, or other reflective surfaces, you're seriously increasing the effects of the sun. Use extra caution and take lots of time for breaks in the shade.
Speaking of shade, set yourself up a chair, cooler, and towel in a shaded area to offer your skin occasional breaks from the heat and light.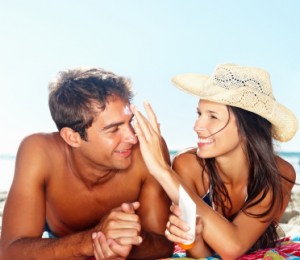 [box]
Sun Safety Essentials…
Your favorite men's sunscreen, SPF 30 or higher
Long sleeved shirt and pants
Water bottle – fill it, use it!
Aloe vera gel, or other natural burn relief product
Wide-brimmed hat (happens to be in style this season!)
Sunglasses
[/box]
Learn more about sun safety from the Amercian Cancer Society <HERE>.
Have a great summer!