This week we're excited to be introducing you to a wonderful shop that offers a stylish way for you to get the healing benefits of magnet therapy that perfectly complements your personal look. Pine Branch Designs offers an amazing array of bracelet and necklace designs that work perfectly for both men's and women's looks. Each piece is made by hand, and sizing can be customized to make sure that you end up with the perfect fit every time.
Pine Branch Designs
The mountains of North Carolina are home to this prolific shop run by Cindy & Ken Brockway. The surroundings and peace of their location lends something special to the work they do – from magnetic therapy jewelry to woodland wedding accessories that add rustic charm to any celebration.
Pine Branch Designs creates each piece in their shop by hand using a variety of natural materials, and they cater to a wide variety of styles to fit your personal look!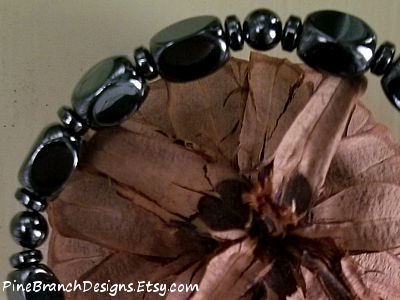 Magnetic Therapy
Many people recognize the benefit of Magnet Therapy for specific health problems including:
Allergies
Asthma
Acne
Bursitis
Bunions
Bone Spurs
Carpal Tunnel
Diabetes
Fibromyalgia
Frozen Shoulder
Migraines
Lupus
Rheumatoid Arthritis
Sleep Disturbance
Tendonitis
And More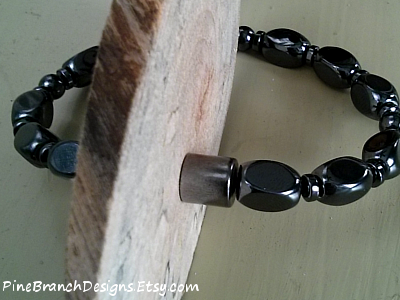 The magnetic power of individual therapy beads and clasps is measured in "gauss" and the greater the "gauss" the stronger the magnetic energy.
Magnetic Therapy Works via this magnetic energy to stimulate the nerves, increase blood flow, and improve circulation.  This increases oxygen to the affected areas to facilitate healing by relieving a myriad of symptoms such as pain, swelling, fatigue and inflammation.
The magnetic beads used by Pine Branch Designs are a composite of Magnetite-A Natural Ferrimagnetic Mineral and Hematite, which creates Magnetic Hematite!  Therefore my jewelry has the combined benefits of natural hematite and magnetism. The clasps used are neodymium magnets, the strongest type of permanent magnet commercially available!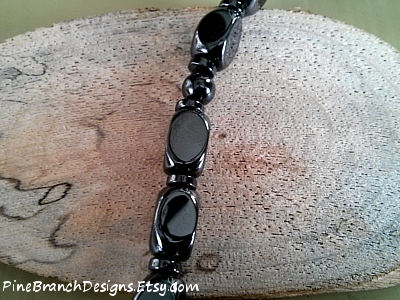 Josh's Review
The Pine Branch Designs Handmade Magnetic Jewelry is my shop pick for the best therapeutic men's (and women's!) jewelry on Etsy. These pieces are extremely tough and can easily stand up to wear and tear. They are extremely easy to wear and look good with both casual and dressed up looks thanks to the natural depth of color and shine of the special beads used.
The therapeutic effects of these magnets are pretty amazing! As a full-time blogger a builder, my hands often tense or cramp up. Since I put the bracelet on I was given by Pine Branch Designs, I haven't experienced nearly as much pain or heaviness in my fingers, and I've been able to do all my work without the bracelet being in the way – something I value a lot!
The magnetic clasp is super tough, and a custom sized bracelet makes it easy for you to snap it on and go without any fuss.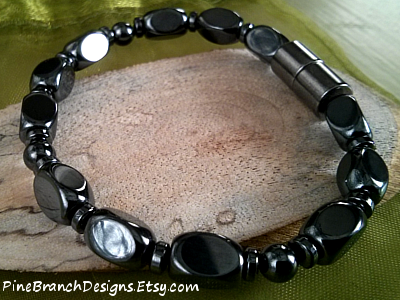 There is a huge variety of men's handmade magnetic bracelets and necklaces available all the time, so click the banner below to see them all…
---
Although magnetic therapy is not 100% effective for everyone, it is a viable alternative therapy method that works well for many people. The information provided herein is not intended to treat, diagnose, cure, or prevent any specific illness. Please consult your medical professional if you have any concerns. A sample product was given to us by the shop owner so that we could complete this review.