Two things are about as 'in' as it gets right now – simplifying your life with artisan minimalist wallets, and rockin' a sweet beard. To my surprise, someone found an amazingly creative way to combine these two things into one expression of true craft – and I'm going to share their work with you today! Introducing Bearded Woodcraft; eco-friendly wallets made from reclaimed wood and recycled tires!
Welcome John, thanks for taking a bit of time away from your building to chat with the Handmade Men community.
I really love your work – it's truly unique, masculine, and really easy on the eyes. How did this all start for you?
BEARDED WOODCRAFT was created over the past year or so during my search for a compact/minimalist wallet. I purchased leather wallets, iPhone wallets, and more but none of them met all of my requirements or stood the test of time. Hence, I started to dabble in creating my own wallets. I started with wool felt (taught myself how to sew), canvas, and more. All proved to be very time consuming and inaccurate. This led me rethink the medium in which I was creating wallets. I eventually landed on wood as the medium of choice. My father is a life-long carpenter with a workshop full of tools and lumber. From this point on, I have created several prototypes that I've shared with friends and family.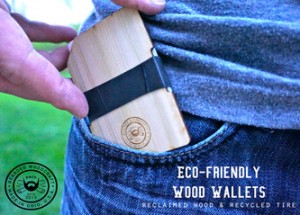 Very cool. It's always interesting to learn about the process behind the product. The amount of work and thought you've put into this is really clear in your design and the wallets themselves.
I wanted to spotlight a few of your wallets but I couldn't narrow down my choices since I love them all. Which two are your most popular right now?
The BALBO wood wallet is designed from reclaimed wood in the hills of Logan, Ohio. Each wallet is made with a single wood panel and a recycled bicycle inner tube elastic band. For daily use, hold your ID/credit cards on one side with your cash and receipts on the other.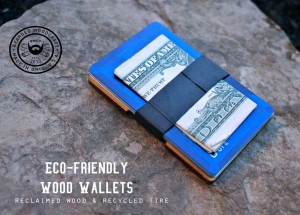 CUSTOM STATE MAP – Show your state pride with this custom state map wood wallet.  Specify the state map of your choice in the "Special Instructions" section of the Shopping Cart.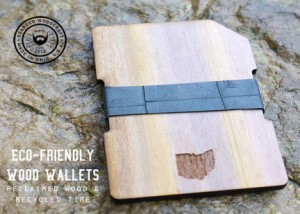 So cool!
I love the simple designs and the way that the unique wood pieces are really put in the limelight. These are some very handsome wallets that really get attention.
As a maker and a supporter of all things handmade, why do you think artisan, one-of-a-kind, and handmade are such great options when it comes to guys?
Purchasing handmade OOAK items are a great way to support the small business community and your local artisans. As a small business startup, I pride myself in trying to find day to day products that I can use, wear, etc.
Well said.
Wondering how John builds these amazing wallets? Check out this video and prepare to be amazed…
 Where can we find Bearded Woodcraft online to order?
Official Shop
Twitter
Facebook
Thanks again for sharing your amazing work with us John!
Click the image below to check out Bearded Woodcraft online
and you'll see why this is one of my favorite shops for 2014!