What happens when 4 guys with boundless creative energy get together? Mixed Species! We got to speak with the Mixed Species collective this week and are still smiling! Irreverence abounds in this 'Featured!' spotlight! Pull up a chair and get ready for edible underwear, a cuddly colon, and why glue guns are way better than hand guns.
Welcome, guys! Tell us a little bit about yourselves…
In 2007 a crafting commando unit was sent to prison by a military court for a crime they didn't commit. These men promptly escaped from a maximum security stockade to the West Coast underground. Today, still wanted by the government, they survive as crafters of fortune. If you have a problem, if no one else can help, and if you can find them, maybe you can hire Mixed Species.
Actually, we are a group of four; one in Washington State, two in Oregon, and one in California. In aggregate we are a capitalistic hippie, white trash, a former model with four kids who plays a mean bass and does PR for a Fortune 50 company, and a former member of too many bands to count!
Ha! By far the best answer ever given to that question!
You guys clearly work well together – and the work that comes from your shop is amazing! Tell us a little bit about each of you, what you contribute, and what you're about…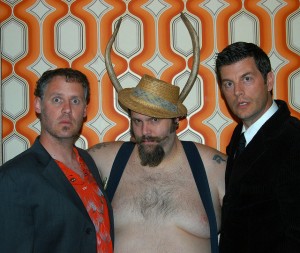 Hairy McSpecies – Lead Singer. Serger Master. Screen Printer. VP of Vote Donner Party. Wood Carving. Dress Working. Skate Boarding. Father.
Face McSpecies – Saxophone, Back -up Vocals. Occasional Resin Casting (see Resin Huffing). Social Media Contortionist. President of Vote Donner Party. Cattle Prod Wielder. Husband and Father.
Poppa McSpecies – BASS, Screen Printer, President of the Bea Arthur Fan Club. Semi-pro Barbarian. Mixed Species Muse. Husband.
Corporate McSpecies – "Charlie" to us Angels. PR Guru. Spell checker. Non-approver. Bad Cop. Who we try hardest to impress. Half-robot. Husband.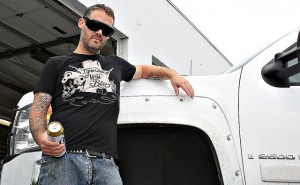 Separately and together we have created such memorable products as Brief Jerky  (edible Jerky Underwear), Colon Pal  (5' Colon Plushy), 'You Park Like Shit' Stickers, and more tees and posters than would be cool to list here.
Excellent! Everything from you shop is a laugh-inducer – or, in the case of the parking sticker – something everyone wants on hand but nobody has had the bravery to create yet. Well done!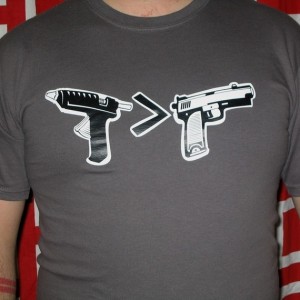 How did you guys start working together as a collective?
We had previously all worked together in a graphic design house / print shop and needed the creative outlet and one that could generate enough revenue to pay for itself, allow us to get together once a year and cover the costs of our fleet of personal submarines.
In your opinion, what makes handmade items more valuable than their mass-produced counterparts?



There is literally something out there for everyone. The fact that Mixed Species is even able to exist is proof of that. The uniqueness and craftsmanship that can be found in handmade items cannot be compared to mass-produced counterparts. Furthermore there is a "story" behind the products and people who make them that does not get translated at the mass produced level.
Stated like a scholar.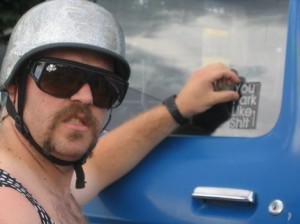 What challenges have you faced in creating and presenting your work?
We are probably our own biggest hurdle to greater success in that we enjoy "one-upping" each other's crazy ideas and then turning them in to retail-worthy ideas. If we were more main stream or focused on one product our revenue could be much more – but we hope that our customers and fans enjoy riding on our little roller coaster of crafting chaos.
That and learning the in's-and-out's of working with slabs of dried meat products as a medium.
Well, at least you don't have to worry about taking snack breaks when building brief jerky pieces!
Why do you think it's important for men to connect with the handmade and one-of-a-kind world?
We have long enjoyed being the gender minority in the craft world. It is important for men to connect for several reasons. You are able to retail in an environment (Etsy for example) that is mostly made up of women and present a product not only for them but also for the men in their lives.
That's what we're all about! There's so much out there for men – and the time is right for guys to start embracing craft, artisan work, and handmade art in its fullest. Why be a cookie cutter?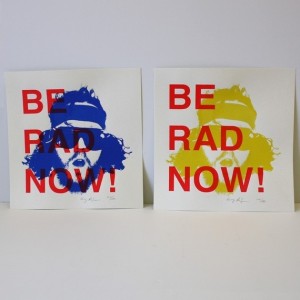 You guys are a blast! We can't thank you enough for chatting with us today!
Tell us how to stalk you online…
[box]
> Facebook
> Twitter
> Blog
Email: DirtyJackalope@Hotmail.com
[/box]
Thanks again guys!
Make sure to visit Mixed Species on Etsy to see their ever-evolving collection of shirts, posters, cards, accessories, stickers, and hijinx! You'll love every minute of it!