In this week's Featured! Interview, we're talking with Karen Webb from Metal Art Xpressions. Karen is a phenomenal artist who works with a variety of artistic mediums from stained glass to plasma-cut metal sculpture. Karen is constantly adding to her artistic toolbox and her Etsy shop is a testament to what creative courage can produce!
Welcome Karen! We're so excited to be connecting with you! Your work is so amazing, and the tools and techniques you use are enough to get any artist's attention!
Tell us a bit about yourself…
My name is Karen Webb.  I am the owner/operator and sole employee of Metal Art Xpressions. I began my business in 2010 after I decided to pursue what I am most passionate about – art.  I have always loved art and am happiest when I am creating something.  My only problem (if you can call it a problem) is that I want to do all kinds of art.  My main business is creating art from metal, but I also enjoy stained glass, drawing, painting, carving gourds, etc.  I have incorporated some of my stained glass work with metal, to give it a look different from other metal artists.
I live in Eaton, Ohio, which is a suburb of Dayton, with my husband and three dogs. We have 8 grown children and 12 grandchildren! I volunteer for a Pet Therapy group and two of my dogs are trained therapy dogs. We visit area hospitals, nursing homes, and schools.
It sounds like you stay busy, and your Pet Therapy work is really commendable!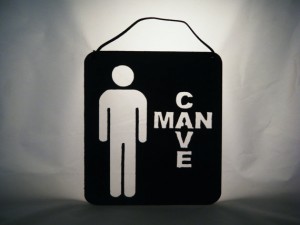 Tell us about the Metal Art Xpressions shop and the work you do…
My business is run out of my house. I have taken over the garage and one bedroom of our house for Metal Art Xpressions.  My Torchmate 2×2 CNC/Plasma Cutter is small enough to fit in the middle of my garage.  I can still put my cars in both sides of the garage – I just have to move them out when I am cutting metal.  My bedroom studio is used for my finish work, and for doing my stained glass, gourd art, painting and other projects.  Most of my creations are decorative art.  I have some functional items, as well, such as candle holders and wall shelves.  A lot of people decorate rooms in their home  in a "theme" and that is where I can help create art that will fit their décor. For example, we live in a log home, and have it decorated in a lodge décor, with moose and bears. I also work with other businesses making custom signs for their business.
We love how each piece in your shop shows the amount of work, skill, and craftsmanship that went into it.
Press play on the video below to see inside Karen's workshop and to see some of her creative skills in action!
What got you started in doing metal work? How did you learn? 
I started my business in 2010.  I wanted to start a business that I could do at home, and one that would allow me to use my creative talents.  My husband and I both noticed a magazine advertisement for the Torchmate CNC/Plasma Cutter, and after some research decided to purchase the machine.  Unfortunately, there are no people in this area that provide training for this machine, so I had to learn to operate it by reading the manual (which was like reading Chinese) and by calling Torchmate Customer Support.  I got to know every member of their support team, and I am sure they cringed every time I called, but they were great and got me through all the initial problems I had.  I also found a mentor by looking at metal art online.  Dick Roberts, from Dick Roberts Metal Art, has been a Godsend. Every time I ran into a problem, all I had to do was contact Dick and he would help me through it.  He also has put out some tutorial DVD's that have been very helpful. It took me nearly a year to really get comfortable with the operation of the machine and the CAD software.  I am still learning new things all the time.
You are proof that anyone who wants to follow a creative path can make it happen! It's amazing how many resources and how much self-training you were able to find to get started working with your tools, machines, and your process.
Speaking of the amazing tools you have, which are you absolute favorites to work with?
I love working with stained glass, hand cutting pieces of glass, then using my glass grinder to get the pieces to fit together just right.  I enjoy combining this talent with my metal work, adding color and texture to my pieces.
Why do you think handmade products are so valuable and so much more meaningful than mass-produced items?
When you buy a handmade item, you buy a piece of the artist's soul.  Nothing is more valuable than that!
Beautifully said!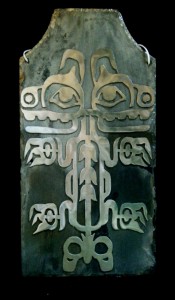 In your opinion, when it comes to buying handmade and one-of-a-kind gifts for men, why is handmade such a good choice?
Who doesn't want something that no one else has? Although I sometimes make the same thing twice, I always make each piece just a little bit different than the last, keeping its uniqueness. 
What projects do you have on the backburner? What's next for you and your shop?
A year ago I got an Oxygen/Acetylene Welder for my birthday.  After looking at it in the box for months, I finally decided to take it back and get a Mig Welder.    I REALLY want to learn to weld, so that I can make three dimensional objects and sculptures.  I am a little intimidated by the welder, but plan on taking some time and practicing until I get the technique down.  I am very intrigued by metal art that is made from stuff you find in the scrap yard.  My plans for the future is to start welding and producing some metal sculptures.
I am sure that we're not alone when we say how much we would love a day in your workshop!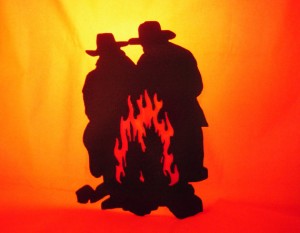 Karen, than you so much for your time, energy, and inspiration. We're big fans of your work and we're sure that all of the Handmade Men readers will be, too!
Any last words to share before we head to your Etsy shop?
"Go into the world and do well. But more importantly, go into the world and do good."
~Minor Myers, Jr.
Use the links below to visit Karen and the Metal Art Xpressions shop online…
[box]
[/box]
---