Today on Handmade Men we have the pleasure of chatting with Ben Dahl, the designer behind the men's jewelry line BRZN. Ben is a prolific artist of both the word and the wearable, and we're absolutely thrilled to be getting look at his work, his studio, and his creative process. BRZN features a full line of men's jewelry pieces with a focus on some of the most popular design elements on the market right now. Check out this interview and see why BRZN is one of the most noteworthy artisan studios creating men's jewelry right now!
Welcome Ben! Tell us a little bit about yourself and your work…
By day, I'm an engineer for an investment banking firm in Chicago. When the lights come up in the city, I'm an artist/designer/writer for a number of different outlets. The one you're probably most interested to read about (shameless plugs about the others below) is the jewelry line BRZN. The name is based off of the word brazen "bold and without shame, made of brass," but stylized as BRZN. It's a line of bold jewelry that contains brass–hence the connection to the word brazen–which, in this case, refers to fired ammunition from pistols, rifles, and shotguns. Each piece is completely handmade in the USA in my studio in Chicago.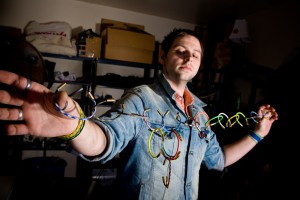 Your 'wearable art' is amazing… but that's not the only creative outlet you have. Tell us about the other projects you work on because I have a hunch the Handmade Men readers will be instant fans…
[box]
Cool Material – In my opinion, Cool Material is one of the best "Men's Stuff" blogs on the Internet. The readership of the site is like the Venn diagram intersection of streetwear, booze, heritage, tech, gasoline and lots of other areas guys are generally interested in. Because of that, we cater the site to the everyman and not one specific niche. After three plus years there, I think it's grown to be a pretty phenomenal resource for guys and girls of all walks of life.
Lost in Concert – Lost in Concert is a music publication started by a few friends. We're a combination of writers and photographers that cover live shows and festivals and do artist interviews with local, national and international acts passing through Chicago. A few years after starting it, I've had the opportunity to spend time with everyone from Moby to GWAR and Grace Potter to Japandroids. It's a labor of love and a lot of work, but it's a blast.
Style Villain – Honestly, this is one of those projects that I should probably just let die but can't bring myself to drop the axe on. I started it to write real, down to Earth reviews of products that guys like me would be interested in buying. Every review on that site is based on actual experiences with the products instead of just "found this on the Internet" reviews like most other blogs. At some point I'd like to get back to updating it more frequently, but who knows when that will happen. If you're interested in writing reviews for anything, feel free to reach out!
[/box]
We're huge fans of all of these sites. If you don't have all of these in your favorites yet, take a few minutes to go check them out and see what all the buzz is about!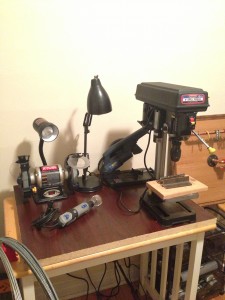 What got you started creating jewelry, and how has your work progressed into what wee see now with the BRZN line?
I've been making random, one off jewelry pieces with found objects for the better part of two years, but BRZN came about after a vacation in the disconnected Midwest north that involved shooting a bunch of different guns. I was enthralled with the sea of bullet casings littering the ground and decided to bring a bunch home and see what I could do with them. It took a pretty significant amount of time after that to find a collection of materials, a process and a finished product I liked, but here we are. After enough people expressed interest (and flat out told me I should be selling them) I opened the BRZN Shop on Etsy.
When I started creating these pieces, I wanted them all to be rugged, unique and non-traditional. Something more manly and USA! USA! USA! than what you'd find inside the average discount fashion outlet. This is going to sound a little like an art student giving a bullshit critique about his work during a portfolio review, but I also like the idea of turning something traditionally violent into something cool (beautiful just seems like the wrong word to describe these pieces). My work is much more Home Depot than Michael's, and I take a lot of my inspiration from the repurposing of things not traditionally associated with fashion or style into wearable art.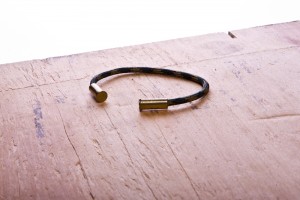 I've been playing with tools since around the time they were as big as me (thanks Dad!), and I've always liked creating. In my mind, it's all about changing people's perspective about what's stylish. Refrigerator tubing? Sure, why not. Scrap bullet casings destined to be melted down or scrapped? Definitely. Parachute cord? Sounds like a good idea to me. Finding something new to do with something familiar, and the look on people's faces when they interact with the product or see the process, is my big motivation. Just seeing a picture on the Internet, one might assume that these bracelets are nothing more than discarded bullet casings hot glued onto art wire, but that couldn't be further from the truth. Once people feel the tangible product, and find out just how involved the process is (for instance: each end of the completed paracord sheathed core has to be wrapped, by hand, in art wire to center the bracelet in the bullet and create an adhesion point), they get really even more excited about the purchase than they would have been if they just bought "a cool bracelet."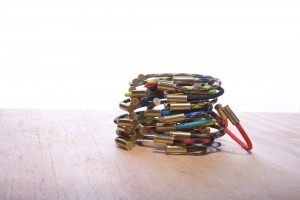 As both a supporter of the 'handmade revolution', and as a creator, why do you think handmade is such a great option for men – and an important focus for the world?
There's a significant amount of tie-in here between the jewelry I create and my interaction with the "heritage" movement through all the style blogs. Men have gotten to a point that they realize it's not just o.k. to care about what you look like, it's encouraged. The products in that heritage space are made with a quality and attention to detail that you won't find in your average disposable fashion big box store. With all that comes a higher price tag. Handmade and one-of-a-kind items live in the same space in my mind.
You're not buying something produced in a sweatshop half way around the world with atrocious working conditions. You're supporting the guy (or gal) down the street, the next state over or on the other side of the world who's trying to make an impact on the world around them. We all do it for different reasons, but the end result is the same. Yeah, you're going to pay a little more for whatever you're buying, but you're going to get a product that you're proud to own and display. You're not going to be wearing the same exact thing as everyone else. You also get the satisfaction of knowing you helped an artisan do something they love, and get a cool creation story to go along with it. As a man who appreciates quality, I appreciate these outcomes.
You can get mass produced equivalents of just about everything for a fraction of the cost as handmade, but they're going to fall apart, or be stamped Made in China or never get worn. If you have to replace something you love every year because it's of shoddy quality, aren't you really saving money in the long run just getting something good the first time?
Thank you so much for sharing your work and your inspiration with us!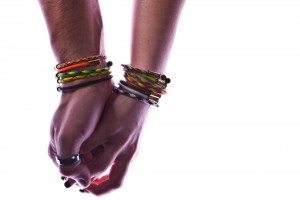 Where can people find you online?
[box]
[/box]
>>> Get a generous 20% Off anything in the BRZN Shop when you use code "IREADHANDMADEMEN" at checkout!
---