Closed! Winner has been announced!
Cuffs are all the rage right now, and Michelle Verbeeck has taken them a step further by crafting fine handmade leather cuffs that feature customized quotes and sayings on metal plates. These cuffs are the perfect compliment to any man's style, and they are truly the perfect gift for the stylish guy who already has some version of every jewelry style already out there.
We've teamed up with Michelle to offer one lucky winner a custom cuff bracelet complete with metal plate quote! Check out these examples…
'Faith' in Hebrew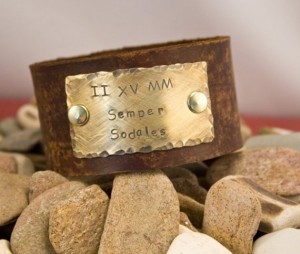 Semper Sodales – Forever Soulmates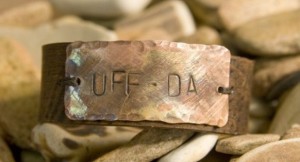 Uff Da! Drats In Norwegian!
The lucky winner will get their choice of any metal plate quote cuff in any size available  Michelle's shop. The winner will also get to customize their metal plate with a saying or quote of their choosing!
This is a truly generous giveaway and we're already jealous of the winner!
Contest opens 10/18/2012 and closes 10/24/2012
Use the entry box below to get in on the giveaway!
While you're waiting for the winner to be announced, go get some ideas for your own cuff by visiting Michelle's shop! Click the banner below now!


---


---
[box]
The sponsor of this giveaway is responsible for fulfilling it once a winner has been announced. Where applicable, all of the opinions expressed in a giveaway are those of its respective author. We do not accept payment or product in exchange for positive reviews, ever.
[/box]