This week on Handmade Men, we're chatting with Lisa, the amazing artisan behind Oxford Accessories on Etsy. This amazing shop offers a growing selection of hand-crocheted items made just for men in the most high quality materials and styles. From scarves and cowls to hoods, beanies, and bow ties, Oxford Accessories has what it takes to equip the handmade fan with everything he needs to look great and stay cozy all year long. Join us as we learn more about Lisa, the Oxford Accessories shop, and the amazing selection of men's handmade crochet creations offered there.
Hi Lisa! Tell us a bit about yourself and your amazing shop…
I'm down to earth and inexcusably satisfied with everything life has to offer. I'm a nerd in every aspect and even though I'm not prepared to tell you that I was at every single midnight book release and movie for harry potter, i won't deny if if you asked me.  I love to make things that bring smiles to people's hearts. That is the greatest satisfaction for me.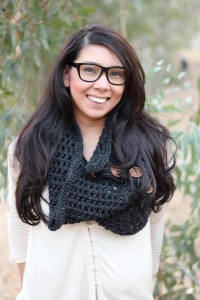 My shop offers high end high fashion crocheted items geared towards men with a few woman specific items. I use top quality materials and keep my color palate within natural and masculine colors.
What got you started in the fine art of crochet, and how did you end up applying those skills to men's style?
My mom taught me how to crochet when I was around six years old. I spent most of my childhood making handmade scarves for family and friends but i didn't take this art as a serious business venture until recently.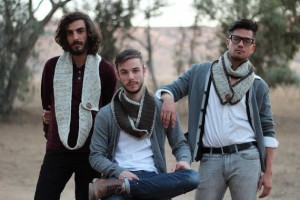 Typically, when you think of crocheted items, your first thoughts are bright pink baby things, stuffed animals, and old lady craft shows. Just the thought of that sends a shiver down my spine. I wanted to take this traditional art and offer an entirely new twist. I love men's style. The clean lines, and sexy simplicity. I may own more men's clothing than women's! Its difficult to find the perfect charcoal grey cardigan in the women's sections without frills and extra nonsense. Men's fashion, I have found, offers the right amount of simplicity and style. I wanted to offer men those same clean lines and polished looks inexpensively with fashion and trend.
Although we love everything in the Oxford Accessories shop, we have two favorites. Tell us a little bit about each…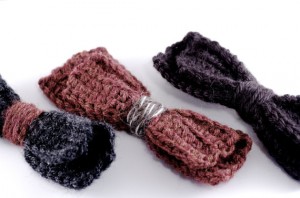 Clip-On Bow Ties
My crocheted clip on bow ties are perfection for any indie guy. these are made with two separate crocheted rectangles and tied together with a contrasting color. I love the brown and oatmeal flecked with burgundy center because it reminds me of a tweed jacket. That is my best seller and has surprisingly crossed many demographics. Just think young college professor. They buy these and love them! And of course, the trendy gentleman that likes his bow tie and cardigan combo.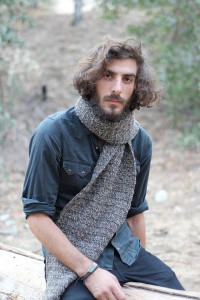 Extra Long Scarves
My extra long, extra wide men's scarves offer the perfect combination of warmth and style. I have heard countless times from my guy friends about how difficult it is to find the right length scarf. I made this item a staple in my shop so I could offer guys the perfect length scarf. I use a longer, more masculine stitch to bring a different aesthetic to this scarf along with outlining it with a simple border. This offers a great finished style all around.
We're such fans of these two pieces and everything else you create!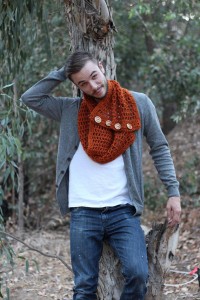 As an artisan who creates for guys, why do you think that handmade is such a great option for men – in terms of style, gifting, and state of mind?
I love this concept "Handmade Men" I know so many guys that are conscious about what they're buying and how it affects our economy, the earth, and our environments. Buying handmade stimulates the economy while providing small business owners an opportunity to create their own jobs and follow their passions. Buying from big box company's help CEO's buy summer boats, supporting small business's help pay for college tuition and groceries. Isn't that just a romantic notion all by itself? Also, forums like Etsy and Handmade Men offer consumers the opportunity to talk to the actual artists, make small changes and get exactly what you want. You cant get things like that at target.
Well said!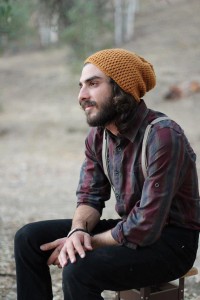 Spring is just around the corner! Do you have any new items or designs in the works?
I have a few designs in progress for my spring line. Over the winter season, I received several messages about freestyle bow ties and neck ties. I love that! and I want to give my customer all the options for their perfect dapper style. I'm also working on laptop cases and iPad cases. They're inspired by the classic envelope design with masculine touches. You can look forward to a complete electronic accessory line with the same color palette I used in my fall/winter designs.
We can't wait to see!
Thank you so much for your time Lisa, we look forward to connecting with you again soon.
Click the banner below right now to see everything Oxford Accessories has available…


http://www.etsy.com/shop/oxfordaccessories
---